One of my ICS songs included on ICS compilation
Mike
April 20, 2010
Music
Comments Off
I received an email from Nicholas Dobson, author of the very fine "Frustrated Songwriter's Handbook" and founding member of the ICS.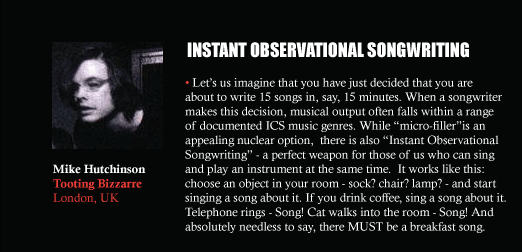 I'm building a huge playlist of ICS music, stuff people made with the 20-Song Game, and I've been giggling like crazy listening to your "Breakfast Cereal" song – an excellent example of what I like to call the "Instant Observational Songwriting" sub-genre of lodge music . Something very intimately hilarious about that session you did, very classic.

"There's all these crazy traditions that have sprung up within the psychotic strictures of the 20-Song Game. Like "micro-filler", which is the maniacal little songs people create to pad out their track list for the way, or the Self Reflexive Song, where the person sings about them self writing songs. Instant Observational Songwriting is like an externalized version of the latter, for those of us that can sing and play an instrument at the same time. I've heard lots of examples of IOS, and of course have joyfully produced lots of it myself, but I was having a hard time finding THE godlike example of it. I used one of my songs as an example of micro-filler, and so I definitely needed to find someone else's song for IOS, so that I wasn't hogging the glory by having all the educational examples be MY stuff. Hurray!
What could I do but accept? An honour indeed. Thanks to the ICS for some great times and some hilarious music.